Performer:
Gisa Michelón (dance)
Estela Sanz Posteguillo (vocals)
Guillermo Guillén (guitar)
Maruan Sakas (piano / percussion)
Responsible for concep and artistic direction:
Estela Sanz Posteguillo & Gisa Michelón
Estela Sanz Posteguillo (musical direction)
Gisa Michelón (choreographical concept)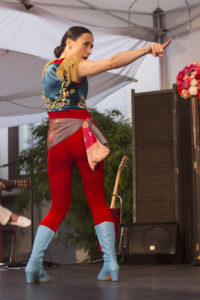 Flamenco y Picasso · de Málaga à Paris
Picasso's life led him from Málaga to Paris, through different creative periods and passionate love affairs, through three wars and political tribulations. His paintings were influenced by Paris nightlife, the circus, bullfights and, of course: Flamenco. Within this homage to his life, you will encounter folkloristiques Verdiales, Tangos de Málaga, melodies by Stravinsky and Satie, the voices of Picasso's women, revolutionary songs, Russian dances, surprising moments and surprising twists – a flamenco evening multifaceted like Picasso's life.
Press reviews
"The mixture of styles was bold but skilful, harmonious, and innovative. The two artists trace Picasso's journey 'De Málaga à Paris" with a musical firework. Estela Sanz Posteguillo presented herself not only as an excellent Flamenco singer but also as an outstanding chanson singer."
(Anda, Flamenco journal, Issue 128, review by Michaela Schabel)