Pearls of world music
Wonderful voices between modern music and Spanish roots
Performed within the magical atmosphere of a gothic chapel.
Modern music and Spanish roots
Estela Sanz Posteguillo (vocals)
Nélida Béjar (instrumental and vocals)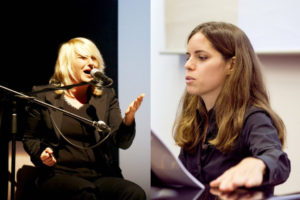 For Estela Sanz Posteguillo, a Spanish singer living in Munich, every day is Flamenco. A scholarship at the prestigious Fundación Cristina Heeren in Seville set the basis for her cante Flamenco. But her musical spectrum goes far beyond that: world music, classical and electronic music – different genres have found their way into her personal flamenco style. 
The composer and pianist Nélida Béjar spent her childhood in Andalusia and Munich. Her soulful compositions are inspired by classical music, electronic music and musical theatre. The interplay between tonal tradition and complex rhythms make her music to a symbol of intercultural encounters. 
Let yourself be enchanted by this joint performance which breathes the magical atmosphere of a  gothic chapel.
Premiere: Saturday, 21 October 2017